If you're looking to step into a leadership role, it's important to take a look at how you act in the workplace. Situation Management Sys­­tem, Inc. shares five tips for being a great leader.
Proper workplace etiquette can smooth out your day-to-day ex­­peri­­ence and give your reputation a boost. Jacquelyn Smith, writing for Business Insider, shares some tips to follow.
Personal assistants help ensure suc­­cess­­ful executives stay on top of their work, writes Suzanne Locke for The National. Helen Clarke, personal assistant to Richard Branson (the founder of Virgin Group), knows just how much is expected in the job.
Is there a better way to make comments in reply email text other than different font colors?
Conference calls can be productive or a chore. Here are some tips to making your calls pain free from U.S. News & World Report's careers editor, Laura McMullen.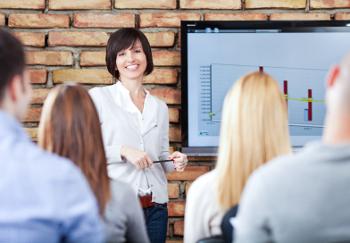 Administrative assistants are often asked to put together presentations for their managers, says Kenny Nguyen, founder of Big Fish Pre­­sen­­tations, which helps people and organizations give better presentations.
Try the '45'

How you position your desk in your office says a lot to your employees. Facing the door with your desk at a perpendicular angle makes you look rigid, like a high school principal ready to chew someone out. Against the side wall makes you look like a worker bee who doesn't want to be bothered. Try a 45-degree angle. It's inviting and friendly. It says, "Come on in!"
Take Our Monthly Poll: